Atlantic City Boardwalk is a Landmark,
Don't Miss it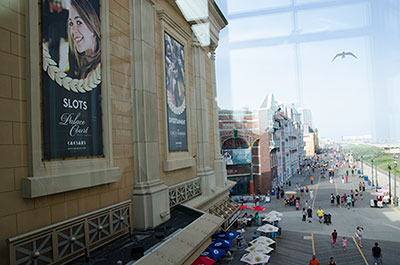 The amazing history of the Atlantic City Boardwalk is one reason you can not skip this on your next trip to Atlantic City.
Before becoming a gambling destination that it is today, South Jersey's Atlantic City used to be a popular beach destination.
Later on when the first hotels were built in the area, boardwalks were created along the beach to keep the sand off the hotels' lobbies. These boardwalks were expanded, having a length of as much as 7 miles at some point in its history.
Today, the small hotels are replaced by bigger ones which not only provide a great view of the beach but also ways to enjoy in casinos and dine in the numerous restaurants in the area. Also, from the historic 7 miles of boardwalk, it has been shortened to just 4.12. But despite of these changes, the boardwalk still remains a fixture of Atlantic City's attractions.
Why Bob books Atlantic City hotels at AtlanticCity.com
Atlantic City's boardwalk area is prime real estate...
and it is where one can find some of the city's (and even the world's) best and most luxurious hotels. Some of Atlantic City's boardwalk hotels include the Taj Mahal, the Tropicana Casino and Hotel, the former Atlantic City Hilton which was bought by the Atlantic Club Casino Hotel and which is now owned by a real estate company that specializes in senior-citizen housing , Caesars Atlantic City, the now closed Trump Plaza Hotel and Casino now closed, and the Resorts the newly redone Claridge to name a few. The Atlantic City boardwalk landscape sure has undergone a major downgrade in 2014 with 4 casinos closing their doors.
So if you're planning to stay in Atlantic City and experience what is has to offer, then get a room in one of Atlantic City boardwalk hotels and see your hotel stay from a different perspective. With the great rooms and views that only this city can offer, surely everybody goes home satisfied.
The other 4 major properties off the Atlantic City boardwalk which are the Sheraton Atlantic City, Borgata, Harrah's and Golden Nugget offer beautiful places to stay which are only minutes from the Atlantic City boardwalk hotel scene.

You must do this on the Atlantic City boardwalk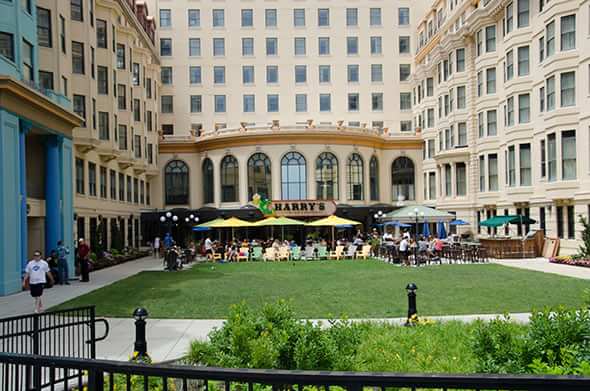 I would at least take part of the day to walk the boardwalk, as there is so much to do. The beach bars are my favorite like
Landshark
and others. There are plenty of good restaurants like
Harry's Oyster Bar and Seafood
. Wow it is beautiful there. The big green lush lawn and cold beers. So if you are at the other off Atlantic City boardwalk hotels take the day. You will not regret it!